A brief introduction on the author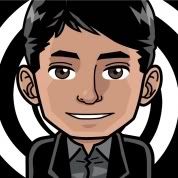 Biography
The Uncannyman (obviously a Pseudonym) is what you can call me. I used to come from a family of 5, now it's just 4. I am of Indian (East Indian) descent, and I am a staunch and proud Catholic believer. I consider myself a second generation Indian. While my relatives and external family members are spread across the globe, most of my closest relatives are still in India, hence, even though I've only been there only less than 5 times, I still consider Bangalore to be my native roots.
I am a product of the early 80s and I began my years as a toddler in the East coasts of Malaysia. However my memories of Kelantan remains extremely vague in my mind. The remaing years of my childhood and adolescent years were spent in the lovely island of Penang. I started my formal education in Penang itself, where I spent my high school years at St. Xaviers Institution and continued right on to college.  
I completed my education in Canada, where I earned a Bachelors of Commerce in Business and Economics from the University of Windsor. I would describe my years in university years as probably one of the best and most important time of my life. I was fortunate enough to be there for 2 and a half years. During my education tenure, I was blessed to be given the opportunity to become a teaching and research assistant, which opened up to a whole new world for me : business academia and teaching 🙂
Defying the usual norm of the typical foreign graduate student, I decided to return back to Penang upon completing my undergraduate studies… a decision that I sometimes ponder whether it was the right thing to do.  
However I was fortunate and once again blessed to be given the opportunity to begin my career at Big Blue, a large US-based MNC. I was among the few that was selected to be part of their Team Blue Graduate Management Program. I eventually ended up specializing in IT Networking, earning my first technical certification along the way. 
After spending nearly 2 and 1/2 years in Big Blue as Network IT specialsit, I decided to move on to an area more relevant to my field of study, and in August 2008, I joined a reputable management consulting firm. I am currently specializing in the areas of  Talent and Organizational Development. 
More to life than just a career
While I do have a promising and exciting career, (not all the time it's exciting though) It took me some time and personal experiences to realize that there is more to life than just having a career. My mother's death especially had a profound and deep impact on me. I began to realize that there were more important things in life than just making big bucks, owning a beautiful cars, and getting my hands on anything that money could offer.  
It made me realize a very important truth in my life that is we often think we are immortals with the things that we do and the choices that we make. We often forget that one day, we're also going to depart from this world, and no we can't take our smart phones with us, we can't take our expensive laptops, our beautiful cars, we can't take anything with us. Instead we'll be facing God, and He'll want an account on this life He gave us. That's all that matters at the end of it all. 
Faith
I don't need to convince you to make you realize how important faith is to me. In fact I have a seperate page devoted just to my faith and God.  However, in a jist, I am a craddle catholic, and I didn't take the faith seriously until 3 years ago, where I witnessed my first miracle on my birthday, just months before my university graduation.  That was my first conversion.
My second conversion came 3 years later, after my Mum's death. I realized that more than ever, I needed God, I needed to change my ways, I needed to walk in Holiness and walk in His path.  It wasn't easy at all, and until today, I admit it's not easy, and people thinkjust because of Hillsong and charismatic pastors,  Christianity is such an easy and a fun filled exciting religion to follow! Believe me it isn't! Otherwise an innocent being, (God's only Son) wouldn't have required to suffer so much and allowed himself to be beaten till the point of near-death! 
Interests 
I am blessed with the gift of curiousity and intellectual. I love learning new things and I love to read. The books I read are mostly non fiction and they span from biographies, business, self-help, history and religon. In fact I love books so much to the point that almost everyday (I kid you not!) I would spend half of my lunch hour at a bookstore. While others prefer to go window shopping, for me I find bookstores as a sanctuary and a place where I can take my mind off things and just relax. Book-therapy works well for me.  Yes I love libraries too! (who wouldn't love a knowledge haven that is free? I am an avid futsal player and any game that involves a racket, be it tennis, badminton, squash or even ping pong! I am also an avid movie goer, and I enjoy serving in Lifeline Minstry, a catholic ministry that is aimed for young adults and college students. 
On This Blog
Uncanny Philosophy is my personal blog. I used to blog before…when I was still a student in Canada, but I decided to close it down after starting work in Big Blue. Part of the reason was privacy and also, back then when I was starting out work, I hardly had internet access and I didn't like to blog in the office. Eventually after some time,I realized the importance of blogs and the continual need for me to keep my thoughts penned down somewhere, and so late last year I started uncanny philosophy.
UncannyPhilosophy is an outlet for me to ruminate and express my thoughts and views. It's a place for me to just "let it out". While I do still worry about privacy issues from time to time, I still feel the benefits outweigh the cost. Just as long as I password-protect sensitive entries, I should be fine 🙂
I humbly hope you enjoy my writings on this blog. I am always reachable on the contact form provided on this blog.
Have a good read 🙂
God bless
The Uncannyman
September 17th 2008
  About Page last edited : 15th October 2007